Apple has been leading the entire smartphone market for years. Its hardware has become more sophisticated every year, and the iOS platform is improving too.
The release of long-awaited iOS 12 introduced various key features that actually make this operating system much more reliable as well as competitive and can easily make the iPhone experience much more delightful. With the recent technological advancements, the iPhone app development is more likely to rule in the upcoming year. So, what are the top iPhone app development trends to look out in 2021? Let's get into details.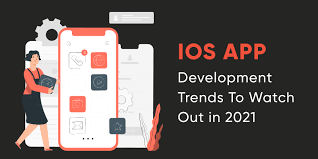 1. Artificial Intelligence Getting into Siri
Ever since Apple launched its AI personal assistant named as Siri, it has certainly gained a lot of traction all over the world. It is certainly getting smarter with time. Apple released SiriKit for the iPhone app developers to allow iOS as well as watchOS to work with the Siri using just the voice. There are numerous benefits of integration of SiriKit with your own iOS app, that includes access from the lock screen as well as hands-free usage.
Siri Shortcut suggests shortcuts to actions intelligently which make it easier for you perform using through an app. Also, you can easily find which particular actions in the app are duly suitable for the users and what they will certainly like to do in the near future. Apps now tell Siri about these different actions by means of specifying them as different relevant shortcuts. You can even run shortcuts by voice as well as create your own with the latest Shortcuts app.
2. Rise of Machine Learning
With the artificial intelligence becoming a game changer in mobile app development, Apple is leading the way when it comes down to leveraging the machine learning technology in their own chops. The company has recently unveiled its core processor named as A12 Bionic that has Neural Engine for different tasks related to the machine learning like Face ID as well as the latest customizable Animoji, also known as Memoji.
This new AI brain also allows the devices to perform multiple tasks such as taking better photos and even recognizing patterns of an unhealthy heartbeat. It is worth considering that Apple launched a new framework named as CoreML 2 or Core Machine Learning 2, which allows the creation of highly responsive and high-performance applications in comparison to different general iOS apps.
This particular framework is also utilized for analyzing natural language text and even deducing the language-specific metadata. It also covers different tasks like script and language identification, parts-of-speech tagging, lemmatization, and even training as well as deploying different custom natural language models.
3. AR/VR and 3D Coming to The Forefront
In its latest updates, Apple has shown different improvements for its ARKit2, which is the next generation of its own augmented reality iPhone app development platform coming with iOS 12. It provides improved face tracking, support for 3D object detection as well as the ability to easily measure the objects with iPhone. Also, it allows creating a multi-user AI experience.
AR from Apple is now shared as well as persistent and getting more engaging than ever before. With the latest ARKit2, the users can easily create any piece of AR art which can be viewed later in the same particular place by another person. It also enabled the iOS developers to create multiplayer games as well as simulations, which wasn't actually possible earlier.
Also, ARKit2 used for AR/VR app development along with SceneKit for 3D graphic designing will certainly enhance the overall development of different simulated environment apps, which will make it the top iPhone app development trend.
4. Security Getting More Weight
While we discuss the various iOS app development trends, it is vital to consider the fact that various hackers are evolving quite faster than the technology itself. Apple has quite managed to develop an enterprise-wide, security-enabled culture which can assist the users to maintain a much safer working environment.
For the companies, it is important to constantly improve its own security in order to prevent any kind of data breaches as well as cyber attacks. It isn't just another iOS app development trend, but the commitment of the company to upgrade its privacy policy while it releases new updates. A mobile app development company has to actually consider this particular trend while developing iOS apps.
5. IoT Getting Prominence
Apple has managed to introduce a much secure IoT ecosystem known as HomeKit that unlocks the different opportunities for the iPhone app developers as it will certainly help in easily connecting with different IoT devices.
HomeKit apps allow users to easily communicate with as well as control different connected home automation devices and even discover compatible devices and easily configure them. Users will now certainly be able to create different actions in order to control these devices by grouping them together and managing them with the assistance of Siri.
It seems that in the coming year, all of these advancements will certainly unleash the potential of different connected solutions in people's daily lives.
6. Apple Pay
After a successful roll-out in the USA, Apple Pay has successfully spread across many countries and becoming quite popular. Apple Pay is now supported by all of the Apple devices, and it is quite good for its inherent security as you don't even have to save the card details. Hence, in the upcoming year, iPhone app development will certainly follow a cashless policy and a mobile app development company will adopt Fintech innovations.
7. Cross-platform Apps and Swift 5
Apple's Swift is considered to be among the best and leading programming languages and keeps in growing rapidly. At present, there are thousands of apps written in Swift that are present on the App Store. This coding language is essentially praised for its inherent advantages like scalability, simplicity, and safety. There isn't any doubt that it has a bright future.
Conclusion
Development trends are changing quickly, and everyone involved in iOS app development needs to stay tuned for the regular updates. 2022 will certainly be the year where we will see iPhone app developers trying to get ahead in the game by following these trends and making innovations to the industry.