If you want to increase your website's traffic or gain more customers on your e-commerce website, you need to be on the top of search results when anyone types a "keyword" which is related to your website's niche.
Now, the main questions come, how can you achieve it, well we can achieve it by keeping in mind about these easy points.
1. Using Social Media
According to Searchmetric's 2016 study of SEO ranking factors, good activity on social media can earn you better rankings. In addition, the study showed that the higher the number of social signals from the below networks the better the position of your website in SERPs:
Google +1
Facebook Shares
Facebook Total
Facebook Comments
Facebook Likes
Pinterest
Tweets
Even if you are skeptical of the correlation that the social shares directly improved the rankings there's also the factor that getting more people to see the content also lead to more links and visibility.
Blog.kissmetrics.com states that links to content on Facebook, Twitter, LinkedIn, Google+, YouTube and other social networks help the search engine crawlers understand what websites are credible and should be ranked for what keyword phrases.
2. Mobile Optimized Website
Google looks at how sites display on mobile as well as the info they provide. Not only does your site need to be mobile friendly/optimized, you'll need to tone down the use of popups so you don't get penalized.
People use all sorts of devices such as tablets, smartphones, laptops, phone watches to browse the web. Keeping this in mind, plenty of brands went mobile-friendly back in 2015. And with the announcement of Mobile-First Index to come in 2018, mobile optimization will become the norm, rather than an exception. So, it's high time you changed the way you conceptualize and create SEO strategies for mobile searches.
Neilpatel.com states that the total number of searches on mobile devices has seen a 43% increase year-over-year. Five points which will make you optimize your app/website for mobile(Source: Seonick.com):
3. Videos Content
You can improve your websites search visits using videos. Youtube is a great source of getting traffic using videos, whenever we search using any keyword you may see a video in your search results on first only.After typing "C# tutorial" in google I got a video result on the first page, even when I wasn't trying to get a video, this means you can also drive more traffic to your website by uploading videos related to your content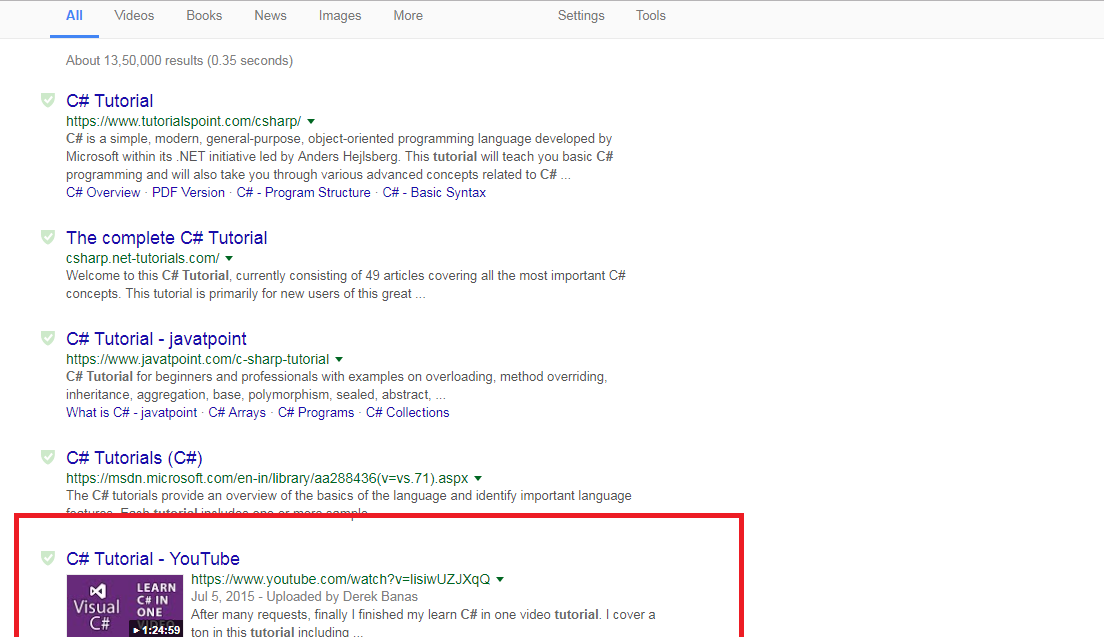 4. Quality Content
As we have read everywhere "Content is king", this is the most important point for gaining more traffic using organic results. An article in Quicksprout.com states that the average content length for a web page that ranks in the top 10 results for any keyword on Google has at least 2,000 words.

Source: blog.serpiq.com
So always make sure your content is related to your title and have enough data to keep visitors engaged for at least a minute in your article/post, this can be done by adding images, proper and quality content.
5.Optimize your images.
Whenever you upload a photo to your blog, be sure to include keywords in the file name and fill out the alternate text field with a brief, keyword rich description of the photo.
6. Local SEO
We found local search rankings to be increasingly important in 2015, especially considering the nature of our clients. Not lots of people do this, but its popularity is increasing day by day, and it is quite helpful to improve your websites SEO. It is must to have your local pages which will include the name of your business, address etc. with Google, Yahoo and Bing.
Your listing in the local pages can increase consumer engagement with your business and your ranking. For instance, check out this example of three hospitals. The one that has the highest number of reviews ranks the highest. (Image source: Search Engine Journal, Seo nick )