As we all know Google Adsense is one of the top monetization programs for your blog or website, if your website is getting lots of traffic daily, but what about new website's which have low traffic but still want to earn more from ads on their website, or what if your Google Adsense account is blocked and you want to earn using other Ads.
Also if you are a new blogger, it is difficult to get approved your Google Adsense, so here is the list of top alternatives of Google Adsense which will help you earn more from your blog
This is one of the highly recommended program for websites, which have Google adsense approved but have low traffic but at-least 10,000 users per month.
You must have atleast 10,000 user to get your website or blog approved with Ezoic and yes, you must have Google Adsense enabled on website.
Why Ezoic?
Ezoic uses Smart MACHINE LEARNING, which increases your revenue by 50%-300% more without affecting your User Interface.
It is easy to implement.
Can be used in websites using Wordpress.
Excellent Support from Ezoic staff.
Another great source of income for most bloggers is Media.net, which is an incredible way to boost your monthly revenue by monetizing your online content. Media.net is Yahoo! and Bing's network that places contextual ads on your site that are highly relevant to your content.
If you're looking for decent ad programs like Google Adsense which doesn't not offer cheap looking and scammy ads, Media.Net is what you need. The ads are perfectly elegant that increase your click-through rates and the keyword block features of media.net adds beautiful designed keyword slabs that matches your blog design.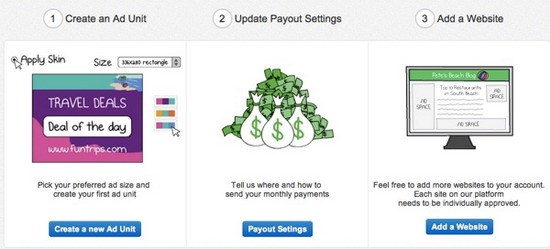 You can also use Media.NET side by side with Google Adsense.
To get approved with Media.NET your blog's primary language must be English. Also, your website's major Traffic must be from U.S or European country to get it approved and have some good monetization.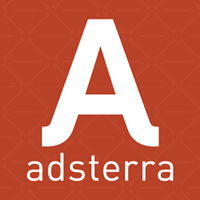 I will personally recommend this as I have used it and yes it is really good.
Adsterra is easy to use, you can use it with Google adsense but to get better revenue from this advertiser you must have traffic from U.S or European countries, just like Media.NET.
Sovrn (also called as Viglink) is one of the best ways to monetize your blog.
Sovrn works in a very different way than other blog monetization programs. 
It works in the background to Convert ordinary product links into monetized links, earning you revenue from a resulting click or sale.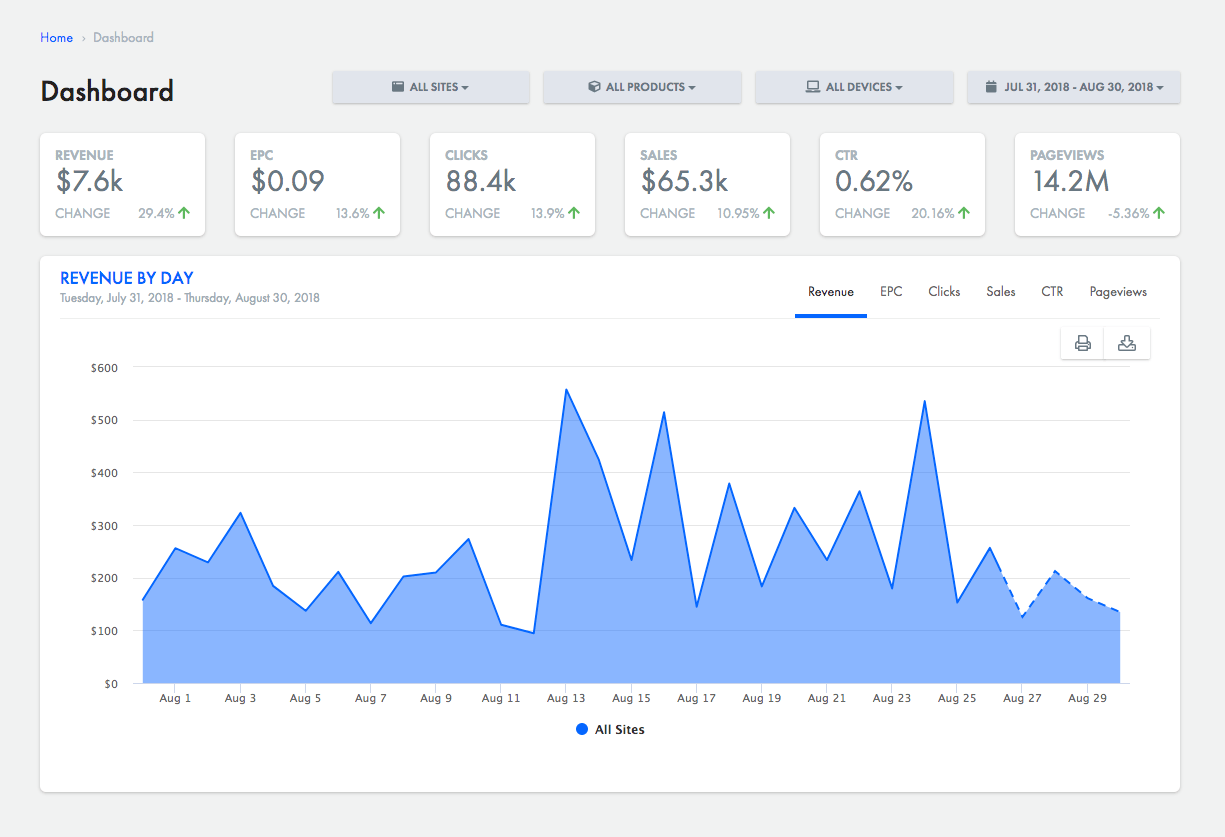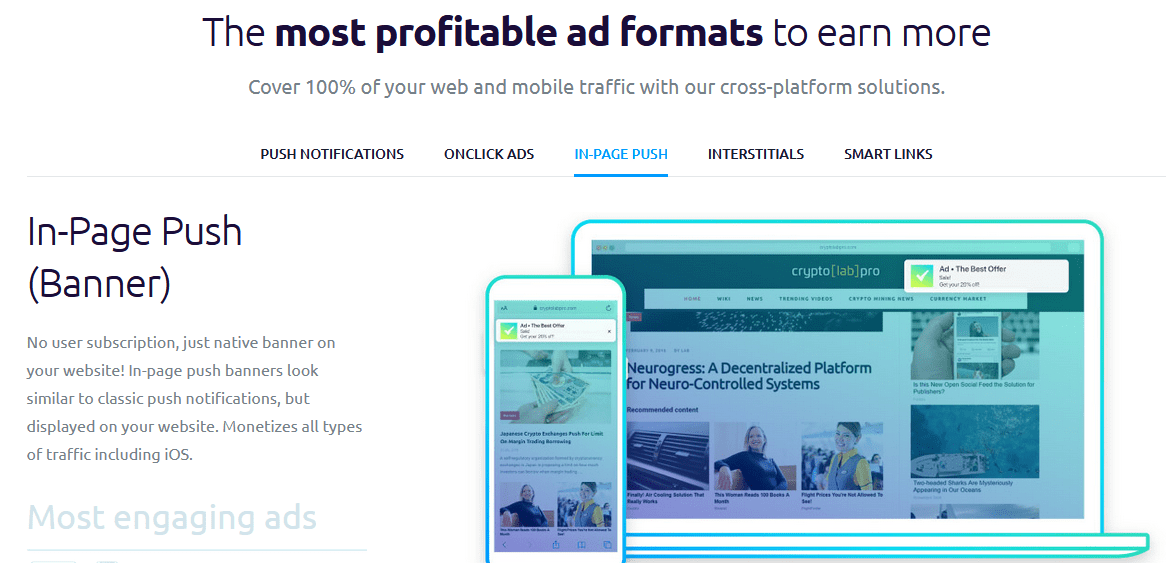 ProperllerAds team can verify your account quickly and you can start earning by placing ads on your website.
Just choose right Ad size and place the code in your Wordpress blog or Custom Website.
Minimum payout is 25$.
You can use it with Adsense. Also, one of the good feature of PropellerAds is that it can bypass Adblockers.
Infolinks is an in-text link ad network that has been a profitable blog monetization network for many publishers.Infolinks offers various types of advertisements that you can place on your blog, but the most popular one is an in-text ad unit, followed closely by an in-frame ad unit.
It does not offer contextual ads like Google AdSense, but as an alternative to AdSense, Infolinks is highly recommended.
You can use other ad networks with it to increase your blog's revenue.

Infolinks provides you with 4 monetization options; you have four types of display ads to choose from. You can activate just one of these four options and you may also activate all the monetization options.
The four types of ads are: Intext Ads, Intag Ads, Inframe Ads, Infold Ads; these entire four add options are shown indifferently from the conventional banner ads that most bloggers use.
One of the best thing about InfoLink is approval isn't based on the amount of traffic that comes to your website, Infolinks review your blog based on content.So if you are new to blogging and struggling to get Google Adsense approval, you can use it.
AdMaven (For Pop-Under advertising)
Ad-Maven has specialization in pop-under advertising, so, if you are looking for a pop-under advertising network then Ad-Maven can be a great choice for you. The ads delivered by Ad-Maven are of high quality, content-driven, high-paying and free from any kind malware or intrusive content.
The another great thing about their ads are, the ad code provided by the Ad-Maven can bypass most of the Ad-Block extensions which result in higher revenue by 25%. Ad-Maven accepts all kind of websites including adult content websites, so, whatever niche website you have, you can join this network and it will provide you the best ad units accordingly.
Ad-Maven offers multiple ad formats to its publishers, which are Pop-Under Ads, Interstitial Ads, Push-notification ads, New-tab ads.
How to join Ad-Maven
Sign Up as publisher using this link
Once you are on your dashboard after signing up, add your website's URL. 
You will be presented with a variety of monetization to choose from.
You will then be given an HTML code from Ad Maven which you paste it on your website to start making money from your site's traffic. Make sure to check if your Ad Maven ad popup is active or not after pasting the HTML code from your Ad Maven account. That's it! You're done.
Direct advertisement is the best source of income, and when we talk about the direct advertisement, BuySellAds does the perfect job. BuySellads is an advertisement marketplace where publishers can list their sites and advertisers can come and check the stats and directly buy your advertisement spots. Once, the advertisement is sold; you have the option to accept or reject the ad. I will always suggest accepting ads that are relevant to your niche.
Direct advertisement can be acquired by sending personal advertisement email or by using any third party advertisement program to sell advertisement. Such third-party advertisement program creates a marketplace to buy sell advertisement.
Unlike other ad networks, getting approved from BuySellAds account is not easy. You need to have a quality website with nice design. If you miss out any of these, your application will be rejected.BuySellAds does not accept low traffic sites into their network.
To get approved with BuySellAds you must have atleast 50,000 page views per month.
BuySellAds has been giving away 75% of total earning to its publishers.
You can transfer your earnings twice in month time into your PayPal account, and there is no minimum payout type in case of Paypal transfer.
---
You might also like to read:

Best WordPress alternatives (List with Pros and Cons of each)