I am using SQL server 2012 and when trying to edit design of already saved table, i am getting this error
Saving changes is not permitted. The change you have made requires the following table to be dropped and re-created. You have either made changes to a table that can't be recreated or enabled the option prevent saving changes that require the table to be re-created.
Here is the image of the error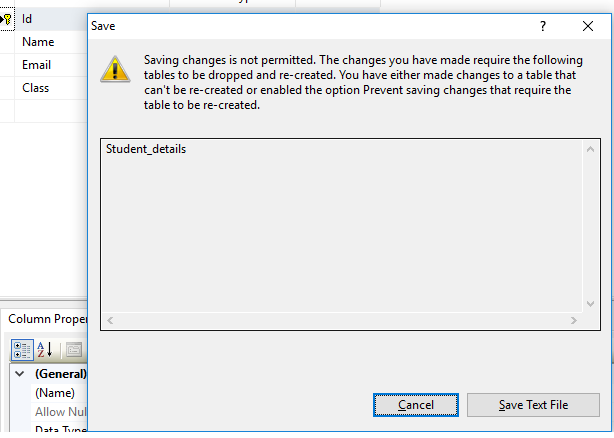 I can't drop and re-create table alwyas just to change the a column from int to varchar, So how can I remove this warning/error permanently and save table with changes?
Asked by:- pika
: 5604
At:- 2/1/2018 9:38:36 AM
SQL
sql server error
save changes is not permitted
unable to modify table in sql server
---
2 Answers

Answered by:- Sam
3
At:- 2/2/2018 7:55:27 AM Updated at:- 8/8/2022 3:00:30 AM

Answered by:- vikas_jk
1
At:- 4/27/2018 8:00:30 AM