A common behavior of Windows applications is to add themselves to your Windows Startup process to ensure they run each time your system boots. They do this for several reasons; auto-update processes, launching anti-virus updates just to name a few. The problem, however, is most applications have no business running at startup. All they accomplish is slowing down your computer and extending the boot process from seconds to minutes.

Depending on your Operating System, there are several tools you can use to remove apps from your startup process, for example using MSConfig.

Today however we are going to use one of my favorite tools, CCleaner, to get the job done. That's right. Not only can CCleaner securely delete files and clear your browser and application cache, but it can also manage your startup files.
Download CCleaner for your PC or Mac – Updated
CCleaner has both a free and professional version for Windows or Mac. The steps I'm going to outline however are all taken from the free Windows version which works just fine. If however you're looking for some additional features, the Pro version includes the following added benefits over the free version:
Real-time Monitoring
Scheduled Cleaning
Automatic Updates
Premium Support
Use CCleaner to Disable Startup Programs for Windows
Step 1 – Launch CCleaner and Click Tools > Startup > Windows Tab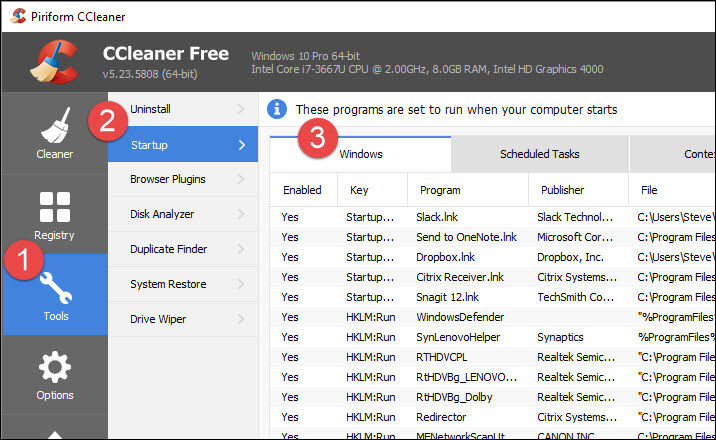 Step 2 – Click the App(s) you want to disable and Click Disable.
Note: If you don't recognize an app, use the Publisher and File path to help identify it. This is a great feature by CCleaner that helps identify all the apps in the startup list.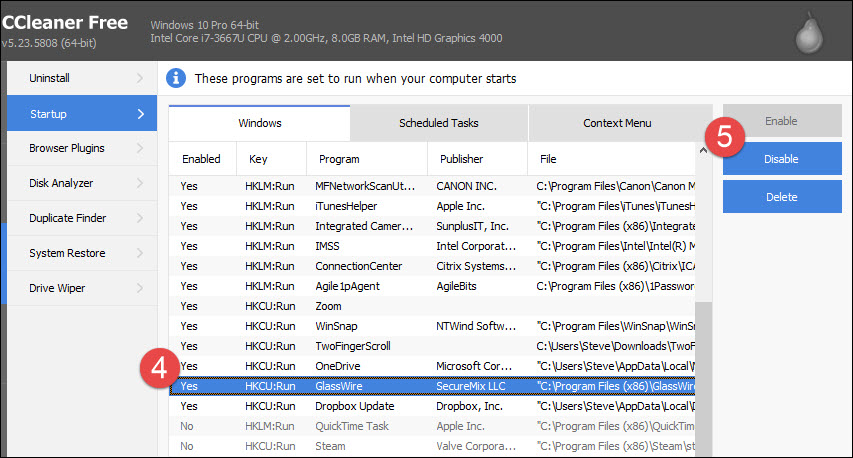 In most cases, you should be able to disable most apps without causing any issues to your system. That said, be sure to reboot after you disable a few apps. If your apps are not working correctly, repeat the steps above and re-enable the app. Do be cautious however if you delete an app from the startup. If you delete an entry, there is no undo button, and it can be a real pain if the program doesn't have the option to add itself back.
Conclusion
CCleaner is a simple way to enable, disable, or completely remove startup entries.  The program is free, and it also has several other features I've found extremely valuable over the years. Recently they updated it to include support for Microsoft Edge and even better support of Firefox. Stay tuned for more tutorials on its other free features.
Credtis/Source-Groovy Post