Over time as you install more and more software you may start to notice that it takes longer and longer for your computer to startup.  More likely than not, this is      probably because many applications these days hook into your Windows Startup process and automatically load up each time you start your computer.   For some  applications, that's a good thing (Anti-Virus, Firewall, etc.) and I'm OK with that. However, for the majority of apps out there it's just a resource SUCK which is doing  nothing more than taking up memory, CPU, and extending my startup times.  BAD MONKEY!
"What is the MSConfig Utility?"
MsConfig.exe has been around for awhile.  It's a Microsoft-built utility so you can trust it as well.  Essentially it's used to reconfigure your startup items within all Windows 7, Vista, or XP as well as several other things, so you need to be careful (I thought of the Spiderman reference here "With great power comes great responsibility") as you play around with it.  If you stick to the Step-by-Step How-To below, you should be okay.
How To Disable Startup Applications In Windows
Step 1
Click the Start Menu Orb then in the search box Type MSConfig and Press Enter or Click the msconfig.exe program link.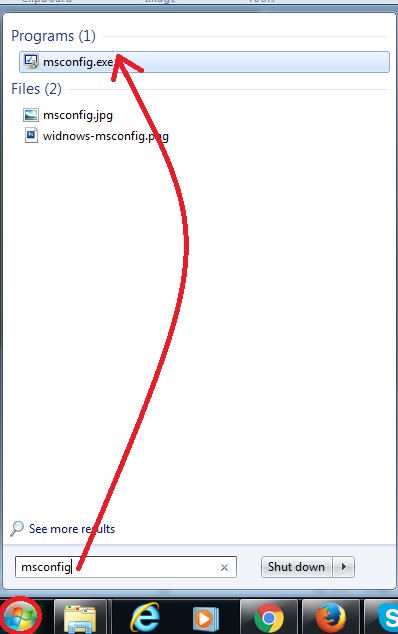 Step 2
From within the System Configuration tool, Click Startup tab and then Uncheck the program boxes that you would like to prevent from starting when Windows starts.  Click OK to save changes when finished.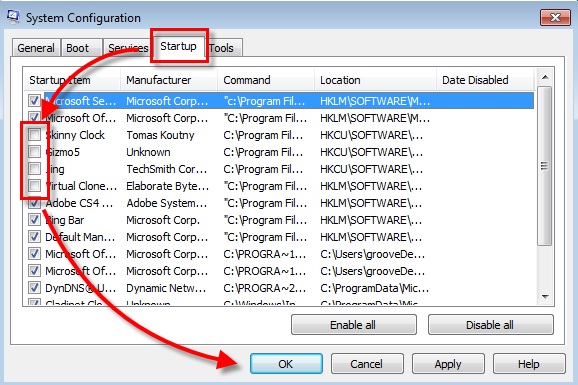 Step 3
Now that you've saved changes Restart Windows and the selected programs should no longer automatically start up.


Source/Credit :- groovy post