In previous arcile, I have mentioned AWS vs DigitalOcean (Which is better? with Price Comparison) and Top Fastest web hosting to host website but now in this article, I have provided many questions of namecheap vs godaddy comparison, like hosting, price, which one has low price what are it's features etc.
Basic Introduction of Namecheap and Godaddy, with comparison
Without wasting anytime, I have provided few basics difference between Namecheap and Godaddy, here are few points to consider:
Namecheap has lesser market share than Godaddy.
Namecheap is cheaper in terms of buying domain name and renewal than Godaddy.
Namecheap provide Domain registration, Wordpress hosting, Email safety etc while Godaddy provides domain registration, hosting etc, but it provides more things like Website builder, Online store builder.
Godaddy is more beginner friendly than Namecheap.
Both has great Uptime.
Key Features
Godaddy
ICANN accredited
Discounts in bundle for domain registration with web hosting and other services
Domain forwarding
Simple and easy UI for Domain and DNS settings.
Namecheap
ICANN accredited
Comodo SSL is very cheap, you can buy for $1.99/year for first year
Provide Free WhoisGuard keeps your contact information out of the publicly accessible Whois database
You can change DNS records in real-time (Updating MX record, A record etc.)
As per Google trends, we can see a little decline in Godaddy trend, over the last 5 years of time.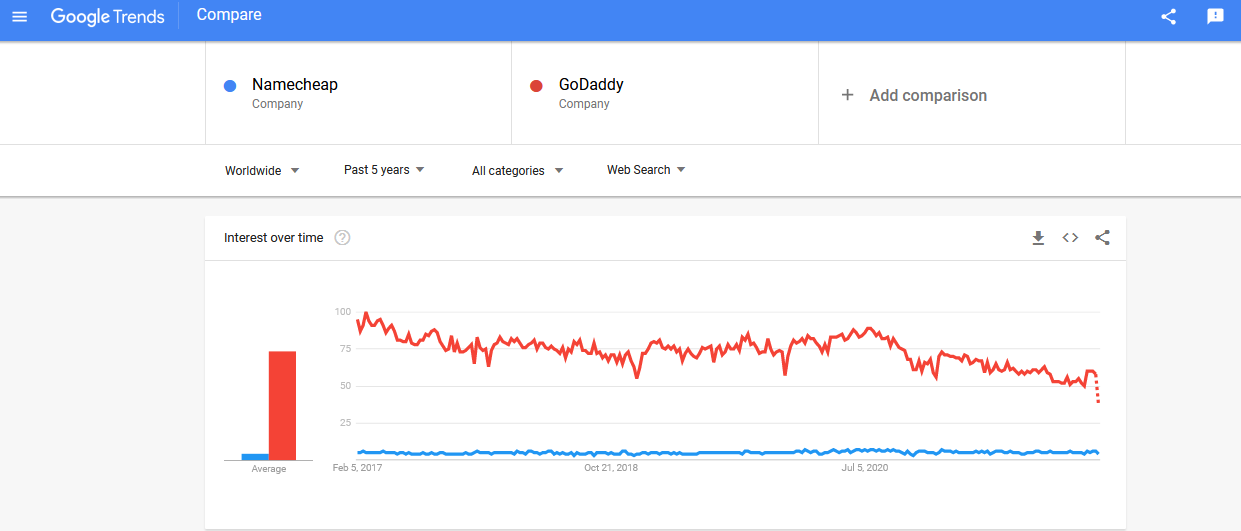 Which is more popular Godaddy or Namecheap?
Answer to this questions is very easy, "Godaddy" is more popular and have over 40 Million Monthly hits, and lead the market when it comes to Domain market. Godaddy has almost 6 times more domain registration than Namecheap. (Godaddy has registered 63.19 Million Domains while Namecheap 11.38 Millions Domains, as of September 2021, data showed by domainstate)
Which is cheaper, Godaddy or Namecheap?
Let's compare prices of each of the provider one by one.
 
Godaaddy
Namecheap
Wordpress Hosting

Basic: $8.99 /mo

Deluxe: $11.99 /mo

EasyWP Starter: $4.88/month

EasyWP Turbo: $8.88/month

Domain Registration

First year: ".com" extension starting at $0.99

Renewal Price: $17.99/year

First year: ".com" extension starting at $8.88

Renewal Price: $12.98/year

VPS(Virtul private server) Hosting
Starts with $11.88/mo for 2 CPU Cores, 2GB RAM and 40 GB SSD
Starts with $ 4.99 /mo  for 1 CPU, 1GB RAM and 20 Gb SSD with Free SSL
Shared hosting
Starts with $ 3.99 /mo  for 1 CPU, 512MB RAM and 30GB storage with 1 database
Starts with $1.88/mo with free domain name and Free SSL, 20GB storage SSD, Free CDN for 512MB RAM, 1 CPU dual core
As you can see from above table, Namecheap is much cheaper than Godaddy.
Since Namecheap gives you 30-Days money back guarantee also, you can start with it.
Support and Uptime
Both Godaddy and Namecheap has an excellent support using 24/7 Live chat and email support.
But Namecheap lacks in one area, which is phone support, they don't have phone support, while Godaddy provides does offer 24/7 phone support, depending on the country you're in. If youare from U.S., Canada, Australia, or the U.K., you would not have a problem getting someone on the phone.
In terms of Uptime, both companies guarantee 99.9% uptime, but as per down.com Godaddy has uptime with an average result of 99.96 percent which is considered Good while Namecheap has uptime of 99.92, which is considered stable.
Final verdict
As you can see from above differences, both of the companies are excellent in terms of providing hosting and price, so you can use of any of these.
But if you are still confused, and want cheaper option select Namecheap and if you want to get started quickly with high performing website and may need support initially, you can use Godaddy.
You may also like to read:

Top Fastest web hosting to host website

Best and Cheap Windows VPS Hosting Providers